About TSJ - Turbomachinery Society of Japan
A. Publication of the Journal of TSJ, 'Turbomachinery'
Publication of the Journal of TSJ, 'Turbomachinery', and English journal, "International Journal of Fluid Machinery and Systems", IJFMS Journal of TSJ, 'Turbomachinery' is a monthly magazine (in Japanese), and features 'foresight and commentary' on recent technological trend, technical papers and course of lectures on specific topics, in particular the excerpts from domestic and international researches, technical tour report and introduction of laboratory office, thus providing the space for sharing all the technological information on turbomachinery with the member of TSJ.
IJFMS, International Journal of Fluid Machinery and Systems, IJFMS www.ijfms.org, is an English journal jointly supported by KSFM, Korean Society for Fluid Machinery, CSET, Chinese Society of Engineering Thermophysics, IAHR Section on Hydraulic Machinery and Systems, and TSJ. IJFMS is indexed by Elsevier: SCOPUS and EI Compendix (CPX) since April 2013. Anyone can download the papers from https://www.jstage.jst.go.jp/browse/ijfms.
B. Events
  (1)Conferences(once or twice a year)
  Relatively longer time is provided for presentation and discussions, thus making  the presenter discuss in detail his unfinished
  research, new technology and new product with audiences having diverse background.
  (2)Lecture meetings(once or twice a year)
  TSJ lecture meetings are organized sepcifically for researchers, desig engineers and manufacturers depending on their special
   fields. They help new technology to be shared with members of TSJ and also help various problmes encountered in the fields
   to be discussed. TSJ lecture meetings include seminars for freshmen as well as seminars for continuing professional
   development (CPD)
  (3)Panel discussion, Workshop, Seminar, Technical tour (4 to 5 times a year)
   These are organized so that the specific goals are to be met.
C. Contract Research Activities
TSJ serves as an entity to be given sponserd or contract research project in trust.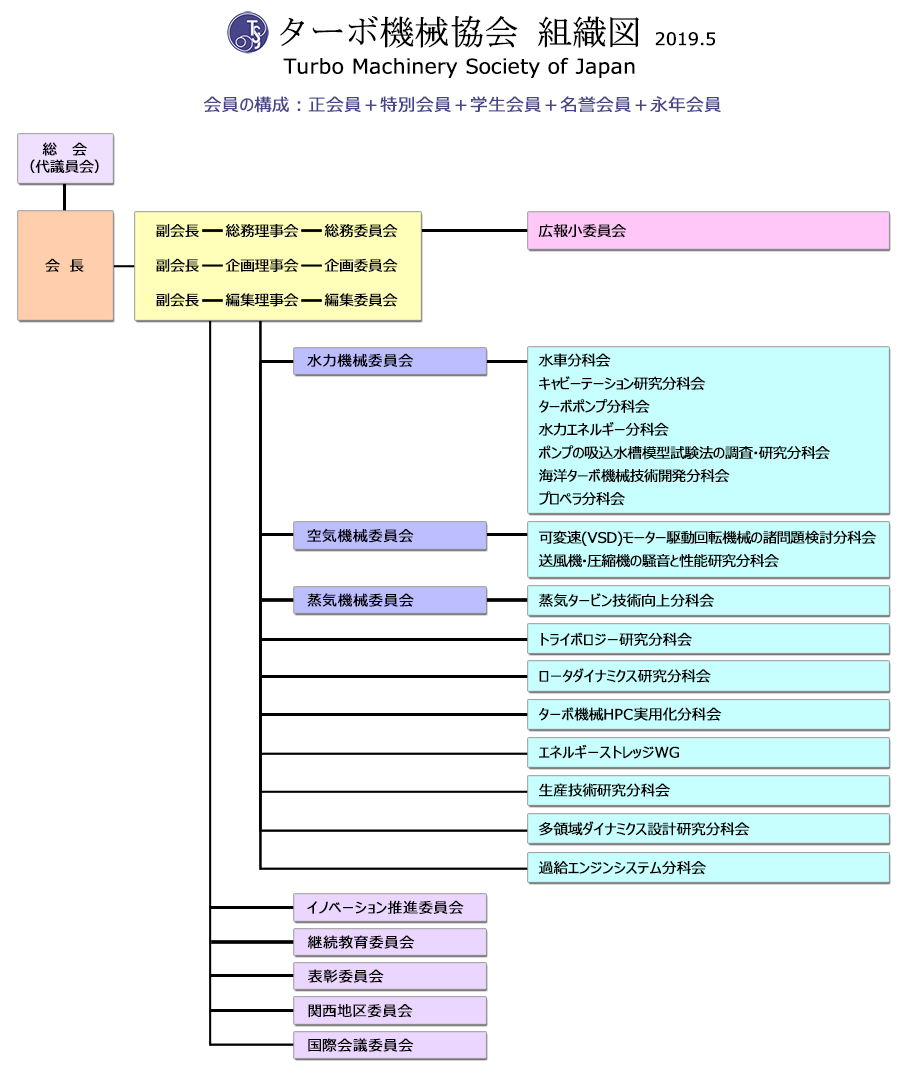 | | |
| --- | --- |
| Presidents of TSJ | No English transalation available |
After being re-organized as 'general incorporated association' under the law of Japan
8th
June 2017 ~ May 2018
Akira, Goto
Senior Technical Executive, Ebara Corporation
7th
June 2016 ~ May 2017
ASAKURA, Hiroshi
Executive Director, IHI Corporation
6th
June 2015 ~ May 2016
ASAKURA, Hiroshi
Executive Director, IHI Corporation
5th
April 2014 ~ May 2015
FURUKAWA, Akinori
 Professor Emeritus, Kyushu University     
President, Oita National College of Technology
4th
April 2013 ~ March 2014
FURUKAWA, Akinori
 Professor Emeritus, Kyushu University     
President, Oita National College of Technology
3th
April 2012 ~ March 2013
SAKAGUCHI, Junichi
Director, Chiyoda Corporation, technology strategy laboratory
2th
April 2011 ~March 2012
SAKAGUCHI, Junichi
Director, Chiyoda Corporation, technology strategy laboratory
1th
November 2011 ~ March 2011
TSUJIMOTO, Yoshinobu
Professor,Osaka University
Term
Duration
Name
Affiliation at the time of president
第38期
H22.4~H22.10
辻本 良信
大阪大学 教授
第37期
H21.4~H22.3
辻本 良信
大阪大学 教授
第36期
H20.4~H21.3
小谷 重遠
コベルコ建機(株) 取締役社長
第35期
H19.4~H20.3
黒川 淳一
横浜国立大学 教授
第34期
H18.4~H19.3
黒川 淳一
横浜国立大学 教授
第33期
H17.4~H18.3
伊藤 喜夫
(株)日立インダストリイズ 常務取締役
第32期
H16.4~H17.3
伊藤 喜夫
(株)日立インダストリイズ 常務取締役
第31期
H15.4~H16.3
井上 雅弘
九州大学名誉教授 佐世保工業高等専門学校校長
第30期
H14.4~H15.3
井上 雅弘
九州大学名誉教授 佐世保工業高等専門学校校長
第29期
H13.4~H14.3
佐藤 友彦
三菱重工業(株)常務取締役
第28期
H12.4~H13.3
佐藤 友彦
三菱重工業(株)常務取締役
第27期
H11.4~H12.3
山根 隆一郎
東京工業大学 教授
第26期
H10.4~H11.3
窪田 直和
(株)電業社機械製作所 常務取締役
第25期
H9.4~H10.3
小林 敏雄
東京大学 生産技術研究所教授
第24期
H8.4~H9.3
小川 汪
石川島播磨重工業(株)常務取締役 技術本部長
第23期
H7.4~H8.3
谷島 昶
(株)荏原製作所 専務取締役
第22期
H6.4~H7.3
井田 富夫
神奈川大学 教授
第21期
H5.4~H6.3
谷島 昶
(株)荏原製作所 専務取締役
第20期
H4.4~H5.3
大桑 武雄
石川島汎用機械(株)取締役社長
第19期
H3.4~H4.3
大橋 秀雄
東京大学 教授
第18期
H2.4~H3.3
大橋 秀雄
東京大学 教授
第17期
H1.4~H2.3
山口 啓
(株)荏原総合研究所 社長
第16期
S63.4~H1.3
豊倉 富太郎
横浜国立大学 教授
第15期
S62.4~S63.3
豊倉 富太郎
横浜国立大学 教授
第14期
S61.4~S62.3
平山 直道
千葉工業大学 教授
第13期
S59.8~S60.3
村上 光清
名古屋大学 教授
第12期
S59.4~S59.8
浦田 星
日本ニュクリア・フュエル 社長
第11期
S58.4~S59.3
浦田 星
(株)日立製作所 専務取締役
第10期
S57.4~S58.3
生井 武文
九州大学 教授
第9期
S56.4~S57.3
生井 武文
九州大学 教授
第8期
S55.4~S56.3
生井 武文
九州大学 教授
第7期
S54.4~S55.3
生井 武文
九州大学 教授
第6期
S53.4~S54.3
今井 兼一郎
石川島播磨重工業(株)常務取締役
第5期
S52.4~S53.3
白倉 昌明
東京大学 教授
第4期
S51.4~S52.3
白倉 昌明
東京大学 教授
第3期
S50.4~S51.3
松波 直秀
(株)荏原製作所 社長
第2期
S49.4~S50.3
松波 直秀
(株)荏原製作所 社長
第1期
S48.7~S49.3
松波 直秀
(株)荏原製作所 社長